Fri Dec 01, 2023 | Dans Nouvelles
Giving Tuesday
Wow! …and Just like that, the summer is over and Fall has arrived!
Black Boys Code has been busy these past few months with several exciting projects. Here's what you might have missed: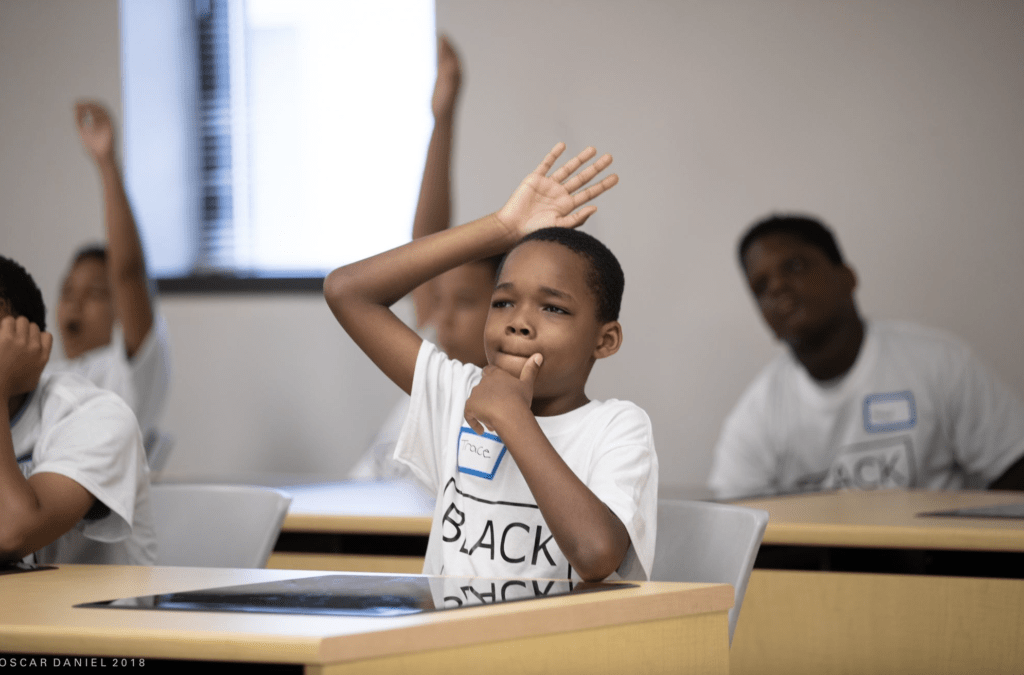 Together with your support, we were able to expand Black Boys Code programming State-side and launch our very first American Summer camp in Chicago! Local inner-city teens got their first introduction to the world of STEM and computer programming, working alongside our devoted mentors and instructors, all of whom are experts in the computing field. By the end of the camp, 31 students graduated and proudly presented their final coding projects on the last day. Instructors, local politicians, and our CEO Bryan Johnson were all on hand to celebrate the conclusion of the Technology Camp.
We also held our first in-person Hackathon in Ottawa, which had the Honourable Mona Fortier – Member of Parliament and president of the Treasury Board – on hand for the occasion.

Our second annual Canadian Technology Camp also took place in July and had students and instructors come together virtually for 6 weeks, to build upon the foundation of computer literacy learned through our year-long after-school programs.
The Black Boys Code Cares initiative is a social responsibility program created to help families who have experienced difficulty with access to technology. 
Through the launch of this exciting program, we are now offering the same learning opportunities for young Black girls, as we have for Black boys. It brings a measure of true equality for all young people of colour, to take advantage of our programming, building a foundation in STEM that will serve them well as they pursue higher education and careers down the road.
The Reskilling Program, launched in April 2021, was a 12-week pilot coding Bootcamp, with the goal of providing an industry-recognized diploma to Black youth between the ages of 18-29. In all, we had 83 hard-working young men and women graduate, with the title of Junior Web Developer.

This program was made possible thanks to a grant from the Government of Ontario and offered in partnership with Lighthouse Labs, a Canadian tech education company, and Riipen, a leading-edge experiential learning platform. 
Black History Month Summit
On Saturday, February 5, 2022, we held our first virtual national Black History Summit, to celebrate Black excellence in Tech and Science. This event highlighted the achievements of Black innovators of the past. Hosted by Black professionals currently in the industry, attendees got to hear first-hand how they overcame challenges to succeed in the Tech industry.  
Launched in November, 2021, Black Kids Code (Girls) is the first program in Canada dedicated specifically to the needs of Black girls in tech at a national level – instructed and mentored by Black female tech professionals. This program was developed in response to the high demand from parents in our local communities for a Girl's program; the reception has been overwhelming.
So far we've had:
3 Girl's Chapters launched virtually, in Vancouver, Calgary, Edmonton
30 volunteers across the 3 cities
12 workshops held with tremendous success

They say time flies when you're having fun, and time definitely flew by for us at Black Boys Code in summer 2022! But none of this would have been possible without your support!  Thank you for partnering with us to continue to mentor, motivate and raise the future tech innovators of tomorrow!