Fri Dec 01, 2023 | Dans Nouvelles
Introduction To Python 3 In-person Workshop
Introduction to Python 3 In-person workshop
On November 19th Black Boys Code held its first in-person workshop since the pandemic. This was the first in-person workshop in over two years and it was a great opportunity for students, mentors, and parents to come together for a fun, interactive time of learning, sharing, and inspiration.
"We received overwhelmingly positive feedback from the parents. Many of whom were delighted to see how much our students had learned at the workshops and to see the kids connecting with each other in person after establishing friendships online. The kids were also happy to make new friends and connect with Black role models they can look up to" says Operations Manager Jeff Mukaka.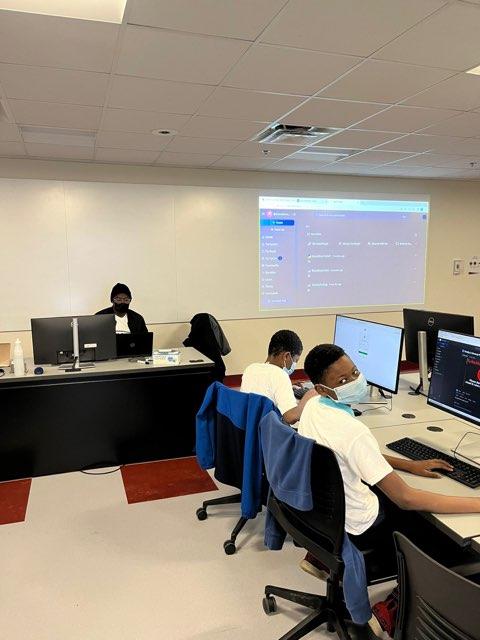 It's always hard to predict how a change of pace from the usual routine will be received. In this case, it was slowly transitioning back to in-person learning however, as the first post-pandemic workshop Mukaka believes the kids had a great time while being able to learn.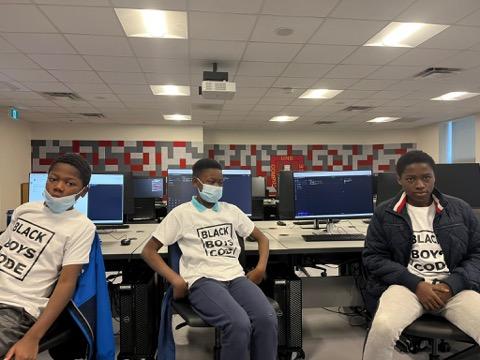 "The workshop was a tremendous success and this being the first one we have had in person in Canada post-Covid, I think we definitely will be having more in-person workshops in the future! The turnout was great, and the kids learned so much. Everyone was able to participate and get their questions answered. And it was wonderful for the mentors, instructors, and kids to finally connect with each other in person after having the workshops online for so long. Food was served along with knowledge! and yes, we'll be having another workshop on Saturday, December 10th".
Jeff also got a chance to speak to parents who expressed excitement about what their kids learned that day. Here is a bit of what they said:
"Thank you so much for the program, it was really great for my son to have been part of it. I appreciate the effort and time your team put into this. My sincere thanks to everyone involved." – Micheal Obi

"Thank you for the information. We're extremely grateful for the opportunity offered to our kids. My son is very excited about the program. We cannot wait until the next workshop" – Kingsley Forteh

"My son and myself will like to say a big thank you!! My son enjoyed the coding workshop and I'm happy he positively engaged." – Uju Mofunanya