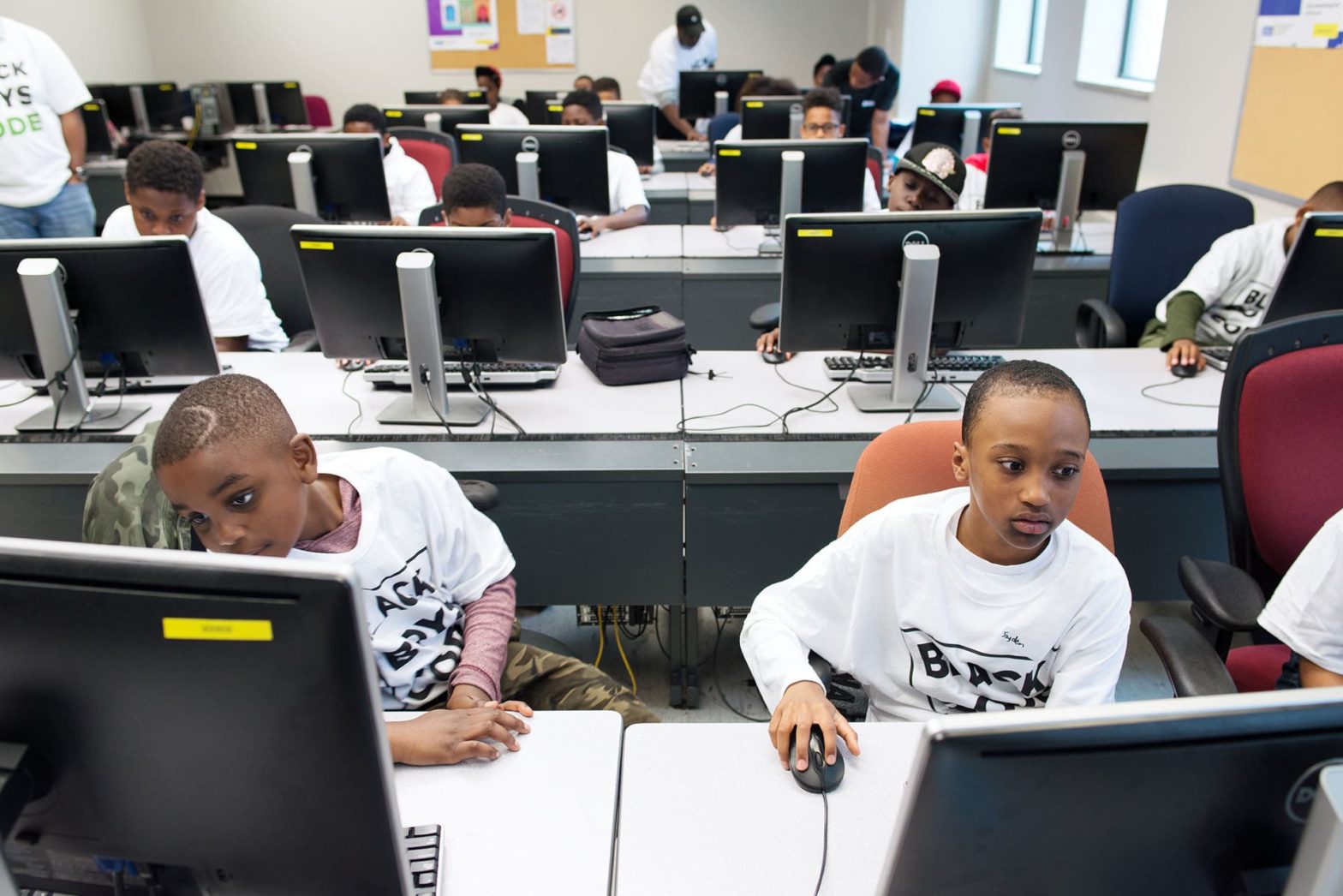 Fri Dec 01, 2023 | Dans Nouvelles
Introducing Black Boys Code Academy
Black Boys Code is pleased to announce to launch of our new Learning Management System, Black Boys Code Academy, intended to further enhance the learning experience of the boys in our programs. 
This project was supported by a grant from the Canadian Internet Registration Authority's (CIRA) Community Investment Program. The goal of the CIRA Community Investment Program is "to support initiatives that help build a better online Canada", and BBC's application was identified to have fit the criteria extremely well.
"We are immensely grateful to have received this funding from the CIRA and we look forward to continuing our mission to increase the participation of people of colour in the Canadian technology sector." – Bryan Johnson, Founding Director, Black Boys Code
This grant has enabled BBC to implement a Learning Management System which will increase the efficiency of BBC facilitators and instructors, and allow our organization to help even more boys by building better internal systems. We have now completed the design, development and implementation of our LMS system, Black Boys Code Academy.
Our vision is to provide black youth access to technologies that develop digital literacy, computer coding skills, social collaboration, critical thinking and problem-solving skills– wherever they are.
What is a Learning Management System?
A "learning management system" (LMS) is a software application that is used for the administration, documentation, tracking, reporting, and delivery of educational programs.
Now that the implementation of Black Boys Code Academy is complete and in use, we can continue to:
scale our programs beyond the walls of the traditional classroom so that we can reach more boys across Canada in a more efficient and effective manner,
provide our volunteer faculty with a breadth and scope of easily accessible tools and curricula that help them to have greater impact with our youth,
make it easy for our instructors to create or change course content and track student progress with timely feedback from within and outside the BBC organization, and
reduce the cost of delivering our programs.
About Black Boys Code
Black Boys Code is a national organization dedicated to introducing young boys of colour through their critical development years (ages 8 to 17) to computer science through exposure workshops, hackathons, after school and summer programs.
About CIRA and the Community Investment Program
CIRA is building a better online Canada through the Community Investment Program by funding charities, not-for-profits and members of the academic community who are making the Internet better for all Canadians. CIRA is best known for our role managing the .CA domain on behalf of all Canadians. While this remains our primary mandate, as a member-based not-for-profit ourselves, we have a much broader goal to strengthen Canada's Internet. The Community Investment Program is one of our most valuable contributions toward this goal and funds projects in digital literacy, online services, research and infrastructure. Every .CA domain name registered or renewed contributes to this program. To date CIRA has contributed $5.45 million in Community Investment Program grants.
Contact:
Bryan Johnson
Black Boys Code