Machine Learning! - Part 2
Come join us on Saturday February 18, 2023 and Saturday February 25, 2023 for our Introduction to Machine Learning Part 2 workshop for Boys 8 to 12.
Prerequisite: You MUST have taken Introduction to Machine Learning (Part 1) to participate in this class. If you have not taken Part 1 of this class we will be running it the same day in another chapter. For those who have already taken part 1 of Introduction To Machine Learning, you've come to the right place!

Netflix, Apple, Twitter, Spotify, Tesla and many more hire machine learning engineers to support the 98 billion dollars machine learning and artificial industry. Artificial Intelligence (AI) and Machine Learning (ML) are here, and the industry will only grow. So, what is machine learning, and how does it work.
Now that your child learnt the basic concepts let's dive deeper into machine learning and how computers use data and model cards to make decisions that impact their lives. It's time to go Beyond Basics – Impacting the Future with Machine Learning!
In this two-weekend workshop, your child will explore how:
To read and analyze a model card, then use it to evaluate a model especially, identifying data and system biases
To employ data visualization and feature iteration to create their own model cards
Utilize their model cards in apps development
Use their new skills to build a recommendation application.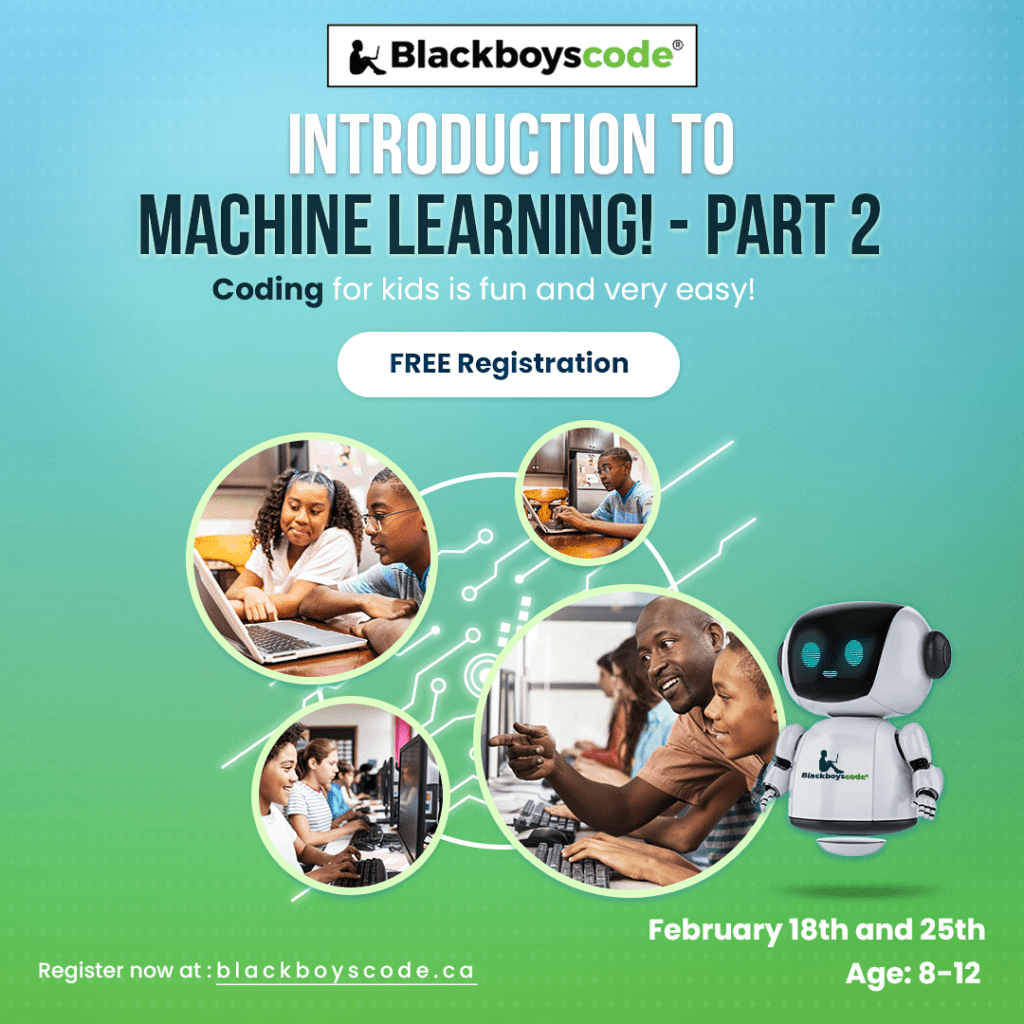 Space Is Limited
Register
now
Computer science is more than coding; it is the solution for a better future!
For further questions you may have on the day of the workshop, please reach out to
[email protected]
Current dates for this workshop
Start date: Saturday February 18, 2023 and Saturday February 25, 2023
Toronto, ON
Start date: Saturday February 18, 2023 and Saturday February 25, 2023
London, ON
Start date: Saturday February 18, 2023 and Saturday February 25, 2023
Windsor, ON
Start date: Saturday February 18, 2023 and Saturday February 25, 2023
Ottawa, ON
Start date: Saturday February 18, 2023 and Saturday February 25, 2023
Brampton, ON
Start date: Saturday February 18, 2023 and Saturday February 25, 2023
Hamilton, ON
Start date: Saturday January 21, 2023 & Saturday January 28, 2023 , 2022
Calgary, AB
Start date: Saturday January 21, 2023 & Saturday January 28, 2023 , 2022
Edmonton, AB
Start date: Saturday January 21, 2023 & Saturday January 28, 2023 , 2022
Montreal, QC
Start date: Saturday January 21, 2023 & Saturday January 28, 2023 , 2022
Vancouver,BC
Start date: Saturday January 21, 2023 & Saturday January 28, 2023 , 2022
Atlanta, NS
Start date: Saturday January 21, 2023 & Saturday January 28, 2023 , 2022
Atlantic Region